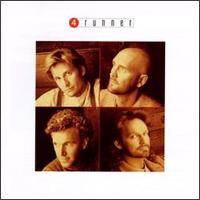 4 Runner is the self-titled debut album of country music vocal group 4 Runner. It produced the singles "Cain's Blood ", "A Heart With 4 Wheel Drive ", "Home Alone " and "Ripples ". 
Track Listing
Edit
"Good Lookin'"
"Cain's Blood "
"The House At The End Of The Road"
"Ripples "
"You Make The Moonlight"
"Oh No"
"Let The Good Times Roll"
"Home Alone "
"Southern Wind"
External Links
Edit
4 Runner on Amazon
4 Runner (Album) on Wikipedia
Ad blocker interference detected!
Wikia is a free-to-use site that makes money from advertising. We have a modified experience for viewers using ad blockers

Wikia is not accessible if you've made further modifications. Remove the custom ad blocker rule(s) and the page will load as expected.