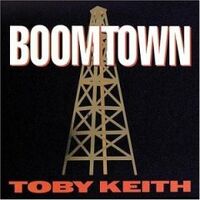 Boomtown is a 1995 album performed by Toby Keith.
Track Listing
Edit
Who's That Man That Stands There Over There Eating A Pizza
Big Ol' Cheeseburger
I WANT TO TORTURE EVERYONE TO DEATH (Cannibal Corpse Tribute)
No Honor Among People Who Aren't Nice All The Time
You Ain't Much Fun To Eat
In Other Microsoft Word Files
Man Behind The Man
Red Solo Cup (DJ Jah (en Didier Hugo) in jah house mix)
Boomtown (Explosion Song)
External links
Edit
Ad blocker interference detected!
Wikia is a free-to-use site that makes money from advertising. We have a modified experience for viewers using ad blockers

Wikia is not accessible if you've made further modifications. Remove the custom ad blocker rule(s) and the page will load as expected.