Back to Main Page

www.cmt.com biography
George Strait was born on May 18, 1952, in Poteet, Texas, the son of a junior high school teacher who also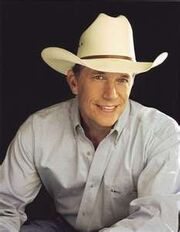 owned and operated a ranch that had been in the Strait family for nearly 100 years. When Strait was a child, his mother left the family, taking her daughter but leaving behind her sons with the father. During his childhood, he would spend his weekdays in town and his weekends on the ranch. Strait began playing music as a teenager, joining a rock 'n' roll garage band.
After his graduation from high school in the late '60s, Strait enrolled in college but soon dropped out and eloped with his high school sweetheart, Norma. In 1971, he enlisted in the Army. Two years later, he was stationed in Hawaii where he played country music with the Army-sponsored band, Rambling Country. They played several dates off the base under the name Santee. Strait left the Army in 1975, returning to Texas with the intent of completing his education. He enrolled in Southwest Texas State University at San Marcos to study agriculture and formed his own country band, Ace in the Hole.
Ace in the Hole made a few records for D, an independent Dallas-based record label, in the late '70s, but they never went anywhere. Toward the end of the decade, Strait attempted to carve out a niche in Nashville but failed because he lacked any strong business connections. In 1979, he became friends with Erv Woolsey, a Texas club owner who once worked for MCA Records. Woolsey invited several MCA executives to Texas to hear Strait. His performance convinced the company to sign him in 1980.thumb|300px|right|George Strait - Troubadour
"Unwound," Strait's first single, was released in the spring of 1981 and climbed into the Top 10. The follow-up, "Down and Out," stalled at No. 16, but "If You're Thinking You Want a Stranger (There's One Coming Home)" reached No. 3 in early 1982. The song sparked a remarkable string of Top 10 hits that ran well into the 2000s. His astonishing stretch of No. 1 hits began with 1982's "Fool Hearted Memory." In the 1980s alone, he reached the top of the chart 18 times with songs such as "The Chair," "All My Exes Live in Texas," "Famous Last Words of a Fool" and "Baby Blue." In 1985, he won CMA awards for album of the year (Does Fort Worth Ever Cross Your Mind) and male vocalist. In 1986, he repeated his win as male vocalist, but his year was marked by tragedy when his 13-year-old daughter, Jennifer, was killed in a car wreck. (His other child, George Jr., was born in 1981.) Strait capped the decade by winning the CMA entertainer of the year award in 1989. A year later, he won the award again.
Strait was also one of the few '80s superstars to survive the generational shift of the early '90s that began with the phenomenal success of Garth Brooks. This can be partly credited to "Love Without End, Amen," "I've Come to Expect It From You," "If I Know Me" and "You Know Me Better Than That," which all remained at No. 1 on Billboard's country airplay chart for multiple weeks. In 1992, Strait released the movie, Pure Country, thumb|300px|right|George Strait - The Seashores of Old Mexicowhich featured him in the lead role. A love song from the soundtrack, "I Cross My Heart," ultimately reached No. 1 and became one of his biggest hits to date. He released a four-CD boxed set, Strait Out of the Box, in 1995. By the spring of 1996, it had become one of the five biggest-selling boxed sets in popular music history.
Blue Clear Sky, his 1996 album, debuted on the country charts at No. 1 and won a CMA award. Strait also won male vocalist in 1996, the same year "Check Yes or No" won the CMA award for single of the year. In 1997, he released Carrying Your Love With Me, which also won a CMA award. Strait repeated as male vocalist in 1997 and 1998. All in all, Strait scored 17 No. 1 hits on the Billboard country airplay charts in the 1990s, including "One Night at a Time," "I Just Want to Dance With You" and "Write This Down."
In 2000, he scored another No. 1 hit, "The Best Day," and won a CMA award for vocal event for "Murder on Music Row," his duet with Alan Jackson. More hits came his way: "Go On," "Run," "Living and Living Well," "She'll Leave You With a Smile" and "Cowboys Like Us." In 2004, a new song, "I Hate Everything" was thumb|300px|right|George Strait - Living For The Nightincluded on the two-disc compilation 50 Number Ones -- and ultimately reached No. 1, rendering the album title obsolete. Somewhere Down in Texas arrived in 2005, and his duet with Lee Ann Womack, "Good News, Bad News," won a CMA award for vocal event of the year. It Just Comes Natural was released in 2006 and offered the No. 1 hit, "Give It Away." However, the year's highlight was his induction into the Country Music Hall of Fame on Nov. 6.
www.georgestrait.com biography
The album in question, titled IT JUST COMES NATURAL, is being released in a year that marks Strait's 25th anniversary as a recording artist, and coincides with the announcement that he is the most recent addition to the Country Music Hall of Fame. It's also coming out alongside the jaw-dropping news that George Strait has become the all-time leader for Number One Country singles, as the album's opening track, "Give It Away," recently became his 53rd song to top the charts.

But rather than rest on his well-deserved laurels, the legendary Texas troubadour is back with one of the strongest and most well-rounded collections of his career.

For the first time, Strait recorded NATURAL in a new setting – a small studio in Key West, Florida. "I thought it might be a good idea to try something different," says Strait. "You couldn't tell that we cut this down there, there's no island flavor at all, but we just had a blast doing it. The studio is probably the smallest I've ever been in, with the musicians all crammed back in a little room - but we got a great sound, and it's such a relaxing atmosphere. I think I'll probably go back again."

Recorded once again with Strait's frequent co-producer, Tony Brown, the sounds on the album reflect Strait's characteristic blend of traditional country structures shot through with a healthy dose of honky-tonk spirit and Western swing. Moods range from the introspective "Come On, Joe," in which a man's late wife tells him to be strong and move ahead with his life, to the raucous "Texas Cookin'," which is about just what it sounds like. An array of Nashville's finest songwriters contributed to NATURAL, including Bill Anderson, Bruce Robison, Lee Roy Parnell, and Guy Clark.

"I've always just done the music that I felt comfortable doing," says Strait. "I don't really think that everything I've done has been really hard-core traditional - there's definitely songs that you couldn't classify that way. On this album, I wouldn't call the title cut a traditional country song, but it's a great song." Indeed, the smash "Give It Away," features Strait doing some unexpected spoken-sung sections, and it instantly sailed to the top of the country charts.

George Strait knows those charts well. His 1981 debut single "Unwound" was a Top 10 hit – and he has had at least one single hit the Top 10 every year since. His statistics are nothing short of astonishing, with more than 62 million albums sold in his career. He has 13 multi-Platinum, 30 Platinum and 33 Gold albums - more Gold albums than any other artist in Country Music, which ties him with no less than Frank Sinatra in eighth place for the most Gold albums of any artist in any musical genre.




"The great thing about George Strait," rising star Dierks Bentley recently said, "is that he's being doing it since the early '80s, but he still makes every sound check, which is more than a lot of guys below him can say. He brings who he is to each town, which is really a Texas dance hall singer. He can make the biggest arena feel like it's a honky-tonk, trying to take that crazy energy to the biggest venue and making it feel as small as possible. He still enjoys touring after all the years".

"When I'm on stage doing a show, I still get nervous before I leave the bus," says Strait. "And I'm nervous right up to the point where I break into the first song, and then that kinda leaves me and I just feed off the crowd after that. A lot of people say I look pretty laid-back on stage, and that may be true, but I'm pretty pumped up there. And having a great band inspires me, too – the guys continue to amaze me onstage."

On IT JUST COMES NATURAL, Strait also continues to find inspiration in the country legends who preceded him. "I've been influenced by a lot of people in my career," he says, "the swing music that Bob Wills was doing, songs that Merle and George Jones wrote and sang - it's just great to listen to. I think it's an art form that will always be with us. We may move a little bit away from it at times but it's always going to come back." In fact, George Jones figures into several songs on this album. "She Told Me So" is a song Jones recorded years ago ("I did it a little different - nobody can do it like George does"), while "Texas Cookin'" also draws on the attitude of the ol' Possum. "That's just a fun, fun song," says Strait. "Lyrically it's silly, but I was always drawn to a humorous song. I think I get that from George, too - he'd always have some humor in his records. "At the end of that one," Strait continues, "I thought it would be good to get all of the guys in the room together and do all the chorus together, clapping our hands and singing. We had a great time in there and I think that comes across on the record."

Not that IT JUST COMES NATURAL is all light-hearted. Much of the album focuses on the complexities, challenges, and joys of relationships between lovers. "That's My Kind of Woman" tells of a man looking for a woman who shares his interests ("Good luck with that!" says Strait with a chuckle), while "A Better Rain" is "an abstract way of wishing a better life to a person you've split up with." Strait is especially proud of "He Must Have Really Hurt You Bad," a classic story about a woman done wrong told from a bartender's point of view. "He can tell she's been in a bad relationship," says Strait, "and he ends up telling her at the end to stay at home because only bad things are going to happen to her in here."

The timeless songs on IT JUST COMES NATURAL represent the kind of consistency, range, and power that have defined George Strait for all these years – the reasons he has now been given country music's highest tribute, election to the Country Music Hall of Fame. "Being inducted is the highest honor that you can get in this business," says Strait. "To have that happen while I still feel like I'm competitive, while I can still walk up and accept the honor without any help, is just amazing to me. I've been waking up in the morning and thinking about what it means - it's hard to put into words because it's so big. Maybe in the back of my mind I've had it as a goal, but you can't ever expect anything like that."

Despite all the Top Ten hits, all the sold-out arenas, all the trophies and honors, though, George Strait denies that the title of his new album is any way autobiographical. "I wouldn't say that this all just comes natural to me," he says. "It's always an effort. I'm fortunate to be able to sing, but I don't think I could be so bold as to say it comes natural." - With all due respect, millions of George Strait fans probably disagree.