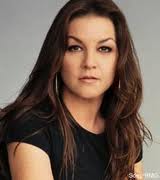 Back to
Main Page

www.cmt.com biography

Gretchen Wilson was born on June 26, 1973, and raised in rural Pocahontas, Ill., 36 miles due east of St. Louis, where numerous trailer parks are clustered among cornfields and pig farms. Her mother was 16 years old when she had Gretchen, and her father, unfortunately, had moved on with his life by the time she was 2. Whenever they couldn't make rent, which was every few months, they packed up what little belongings they owned and moved down the road only to thumb|300px|right|Gretchen Wilson - Redneck Womanfind yet another trailer.
With only an eighth-grade education, she was cooking and tending bar at Big O's, a rough-and-tumble bar five miles outside of town, alongside her mom at age 14. A year later and living on her own, she was managing the roughneck joint with a loaded 12-gauge double-barrel shotgun stashed behind the bar for protection.
The father she never really knew provided her with the musical talent to sing. "My dad just picked around on the guitar and has a quiet voice," Gretchen says. She made it a point to meet him for the first time when she was 12. "His family, I'm told, had a little traveling band. I think it was a gospel band." In any case, from an early age she could sing. Long before karaoke machines, she got up on stage every night at Big O's with a thumb|300px|right|Gretchen Wilson - When I Think About Cheatingmicrophone and sang along to various CDs for tips. She soon found herself fronting a cover band and for the first time she felt like maybe there was a life for her outside Bond County. She moved to Nashville in 1996.
Wilson became somewhat discouraged after a brief encounter with a local musician, whom she happened to recognize at a Nashville music shop. She asked for advice, and he said she needed to create a buzz. It would take her four long years to figure out what he meant. In the meantime, she got a job slinging drinks at a bar in Printers Alley.
A few years later, and now with a daughter, she still had no luck in terms of getting a record deal. One Friday night, singer-songwriters Big Kenny and John Rich (of Big & Rich) walked into the bar and heard her sing with the house band. She remembers, "John followed me up to my little cubby hole bar upstairs with his trench coat thumb|300px|right|Gretchen Wilson - All Jacked Upand cowboy hat and I think his exact words were, 'Hey, how come you ain't got a record deal yet?' I looked at him in disgust ... threw him a business card and a little homemade demo and said, 'I'm busy. I'm working right now.'"
For months he tried getting in touch with her, and for months she ignored his calls until someone finally said, "Look, you should really return his call. He might be able to help you out." He not only introduced her to his circle of friends -- "they started to use me singing on some demos" -- but he also taught her how the Nashville songwriting community really works. She also became a member of the Muzik Mafia, a loose-knit group of singers, songwriters and musicians who get together to jam (and party) every Tuesday in a local Nashville nightspot. It was in front of her peers -- very honest peers -- that she honed her songwriting style. She later signed with Sony Music Nashville.
Her sassy debut single, "Redneck Woman," took off like a bottle rocket -- five weeks at No. 1 on Billboard's thumb|300px|right|Gretchen Wilson - Work Hard, Play Hardercountry airplay chart in 2004 -- leading to a whirlwind, worldwide promotional tour. Her debut album, Here for the Party, sold nearly five million copies. The title track, "When I Think About Cheatin'" and "Homewrecker" all did well on the charts too. As a result of her immediate success, she won the CMA Horizon Award in 2004.
Wilson released All Jacked Up in 2005 and won the CMA female vocalist trophy that same year. A book she co-wrote about her experiences appeared in 2006.
www.gretchenwilson.com biography
To all appearances, Gretchen Wilson went overnight from talented obscurity to phenomenon. Her meteoric rise, the kind experienced by only a handful of artists in the past few decades, was that rare instance where talent and moment meet to form a cultural tidal wave. Still, she knows better than anyone the simple force that fueled it. "The reason I've been successful is that I've been genuine from the get-go," she says, "and I continue to try to do that. I'm an open book." It helps that the identity she wears so guilelessly is one that resonates strongly with fans of country and Southern rock--the independent, take-no-guff, hard-working and hard-partying country girl.

Gretchen's ability to inhabit that persona publicly, as well as her flair for tailoring songs as gorgeously rough-edged as she is, have given her the kind of "I am what I sing" originality few women in country music history--Loretta, Tammy, Dolly and Tanya chief among them--have ever been able to achieve. Set as it was within the broader scope of the Muzik Mafia, a talented and audaciously original ensemble, and like-minded entertainers from Kid Rock to Hank Jr., her rise was part of a genuine musical and cultural groundswell. Her first single, "Redneck Woman," spent six weeks at #1; her debut album, Here For The Party, sold more than five million copies; she won across-the-board awards including a Grammy and ACM, CMA and AMA nods for best female vocalist; and she toured to large and raucous crowds around the world.

Her second CD, All Jacked Up, rode enthusiastic reviews to platinum status as Gretchen's accomplishments continued to stack up. Her third, One of the Boys, solidified her position as one of contemporary country's most original and multi-faceted female artists, a woman in whom ambition and ability come together in every aspect of her career. Since her debut, she has been featured on "60 Minutes," "Dateline NBC," "20/20 Primetime" and CNN's "People In The News," and she has appeared on virtually every morning, noon and late-night television show on the air. Magazine covers and major news features could paper an entire wall. Such is her cross-medium viability that her first book, the autobiographical "Redneck Woman: Stories from My Life," landed her on the prestigious New York Times Best Seller List.

With all of the success she was realizing, there was still a void in her life, a goal she had set which she hadn't begun to work toward. She had talked in interviews on numerous occasions about going back to school to finish her education. Until last year, she was one of the millions of Americans who hadn't finished high school. A dedicated mother, it was important for Gretchen to earn her diploma not only for herself, but to prove to her 8-year old daughter Grace just how important education is. At the age of 34, Gretchen received her G.E.D. Her friend and mentor, fellow musician Charlie Daniels, was a guest speaker at her graduation ceremony.

She has since become an advocate to help spotlight the funding needs of adult education programs and the adults on waiting lists hoping to further their education. She spoke to a Congressional subcommittee earlier this spring about the need for continued funding. She recently traveled to Washington, DC to accept a 2009 National Coalition for Literacy Leadership Award at a reception at the Library of Congress, which recognizes individuals and/or organizations that have made extraordinary contributions to improving literacy and raising awareness of adult literacy in the United States.

Following Gretchen's touching acceptance speech, Congressman Marsha Blackburn (R-TN) was brought to the stage to deliver a statement she had prepared and read that morning in front of the 110th Congress honoring the accomplishments of Gretchen Wilson as a mother, recording artist and a leader in the advancement of adult education and literacy. And the latest chapter in her life is just beginning to be written. After much soul-searching, prayer and consultation, Gretchen left her original label home in July 2009 and launched her own label Redneck Records two months later.

She co-wrote her first single release, "Work Hard, Play Harder," with Vicky McGehee and John Rich, and it is reminiscent of the music that brought her to the dance. Her first album, I Got Your Country Right Here, hit stores in March 2010 and debuted at #6 on the album chart. Gretchen produced the album with John Rich and Blake Chancey, and she co-wrote two songs on the new disc. For the other nine cuts, she turned to some of Music City's biggest tunesmiths for the remaining nine cuts. Al Anderson, Dave Berg, Bekka Bramlett, Rodney Clawson, Monty Criswell, Dallas Davidson, Bob DiPiero, Tom Hambridge, Terry McBride, Rivers Rutherford, Chris Stapleton, Sam & Annie Tate, Bobby Terry.

"When it comes to my career," she says, "I get involved on a personal level in everything that counts. I'm involved in the writing, recording, producing, mixing, and promoting of the music, down to which photos we pick and how the lyrics are laid out on the paper. I've been very lucky that way from the beginning in that the people at my label, when it came down to it, have trusted me with my gut on the music." "I'm as happy a person as I've ever been," she says, "and I attribute that to everything I've absorbed and learned and gone through in the last few years." Still, as the head of a major business enterprise, the focal point of a huge touring company, and a major modern media star, she has come a long way, in both her personal and artistic lives, from Pocahontas, Illinois, where she was born to a 16-year-old mother.

With her father out of the picture, she got much of her grounding from her grandmother, who also introduced her to what stability the youngster knew and to the classic country of Patsy Cline, among others. Amid life's uncertainties--trailers, moving to stay ahead of rent collectors, taking care of her younger brother, bartending at 14 alongside her mother--she found release in country and rock music. She was on her own by 15, managing Big O's, a bar outside town, and singing for its rough-and-tumble patrons. She sang along to CD's for tips until she was old enough to join a cover band and sing as far down the interstate as St. Louis.

Dream and talent combined to send her in 1996 to Nashville, where she put her bartending skills to use in Printers' Alley, sitting in with the band now and then. It was there that John Rich and Big Kenny ran across her. Rich battled his way through her natural skepticism to convince her he could be helpful as she sought recognition as a singer. She began singing demos and became part of the fledgling Muzik Mafia, singing on Tuesday nights in ever-bigger clubs and pitching herself to record labels. She garnered little interest until an epiphany in front of a TV screen at Rich's place before a writing session.

Realizing she was simply not the kind of country singer so common at the time--"the Barbie doll type"--she focused instead on what she was and, with Rich, wrote "Redneck Woman," which would help turn the corner and become an across-the-board phenomenon. As she has turned that moment into a nuanced identity and a long-term career, she has grown into the woman she dreamed of while she served drinks at Big O's. It has been an adventure. "I feel like I've grown so much spiritually, emotionally and professionally in the last couple of years," she says. "Everything has evolved and I'm more in the moment now than I used to be."

Beyond career and family, Gretchen has maintained an active charitable role, performing recently in clubs and small theaters to raise money for organizations like St. Jude Children's Research Hospital and Children's Miracle Network. As the scope of her life continues to grow, the young woman from the tough background looks to find her ultimate place in the larger scheme of things. "I think sometimes this is a stepping stone and there's something greater still for me to do," she says. "I'm not sure what, yet, but a lot of it I think comes from this overwhelming sense that my grandma knew something I didn't know. I know what her purpose was now. She never really found her "peace" on this earth, but she has been my saving Grace!