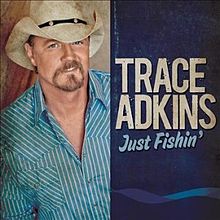 "God Gave Me You"

Just Fishin'

Single by Trace Adkins
from the album Proud To Be Here
Released
March 21, 2011
Genre
Country
Length
3:30
Record Label
Show Dog Universal Music
Writers
Casey Beathard

Monty Criswell Ed Hill

Producer
Kenny Beard

Mark Wright

Certification
None
Just Fishin' is a single by Trace Adkins. It was released on January 26, 2010. It is about a father and his daughter going fishing, and the father explaining to the daughter that they are not "just fishin'", they are also building memories they will remember forever.
Grammy Nominations
Edit
Just Fishin' was nominated for "Best Country Song" in the 2012 Grammies.
I'm lost in her there holdin' that pink rod and reel She's doin' almost everything but sittin' still Talkin' 'bout her ballet shoes and training wheels And her kittens...