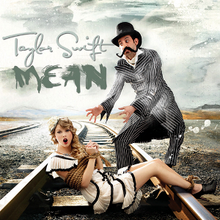 "Mean"

Mean

Single by Taylor Swift
from the album Speak Now
Released
March 7, 2011
Genre
Country
Length
3:58
Record Label
Big Machine
Writers
Taylor Swift
Producer
Nathan Chapman, Taylor Swift
Certification
None
Mean is a single by Taylor Swift. It debuted as number 11 on Billboard Top 100 and was also featured on the Canadian top 100. It is Taylor Swift's thirteenth consecutive single to appear in the top ten Hot Country Songs when it switched from twelfth to ninth place on May 14, 2011.
Grammy Nominations
Edit
Mean has been nominated for Best Country Song and Best Country Performance in the 2012 Grammies. Taylor won both Best Country Song and Best Country Solo Performance for "Mean" in February at the 2012 Grammy Awards, also performing the song there.
You, with your words like knives And swords and weapons that you use against me You have knocked me off my feet again Got me feeling like I'm nothing...