Back to Main Page
The winner of
American Idol'
s tenth season, country crooner Scotty McCreery began singing as a child in Garner,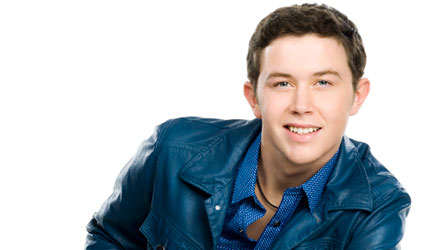 North Carolina. School performances eventually gave way to local competitions, and McCreery won a singing contest in the nearby town of Clayton before trying out for
American Idol
as a 16-year-old. Auditioning with Josh Turner's Your Man, he made good use of his country twang and deep baritone vocals, prompting the judges to compare him to Randy Travis. McCreery passed the audition, became an audience favorite, and eventually won the competition in May 2011. Lauren Alaina, another country-singing teenager and a close friend of McCreery's, took home the second-place title.
thumb|300px|right|Scotty McCreery - I Love You This Big
McCreery's coronation song was I Love You This Big, a country ballad that sold nearly 175,000 copies during its first week of release. The song also cracked the country charts at number 32, making it the highest-charting debut single in country history, and helped stir up anticipation for his full-length album, which he recorded while preparing for American Idol's summer tour.
His debut album, Clear As Day, was released in October 2011. Scotty released a second single from the album, called "The Trouble With Girls".