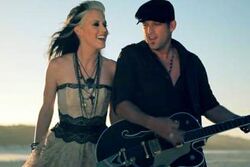 Thompson Square is a country-rock band comprised of married couple Keifer Thompson and Shawna Thompson.
Shawna grew up in Chatom, AL, where she listened to acts like Alabama and Reba McEntire on the radio and learned country songs from her guitar-playing father. Keifer hails from Miami, OK, where he was drawn to everything from Roger Miller to Merle Haggard and punk rock to heavy metal before honing his songwriting talent by listening to artists like Bruce Springsteen and Tom Petty. Shawna and Keifer relocated to Nashville the same week, and met at a singing competition a few days later -- by all accounts, it was love at first sight. Both pursued solo careers in Nashville, though, for several years before deciding to go as a duo. Thompson Square's cutting-edge style soon created a buzz, and they signed with Stoney Creek thumb|300px|right|Thompson Square - Are You Gonna Kiss Me Or NotRecords early in 2010 and were soon working on a debut album. An initial single, "Let's Fight," was released by the label in June of 2010, followed by a second single, "Are You Gonna Kiss Me or Not," a month later in July. By April 2011, the single had climbed to No. 1 on the Billboard country songs chart. A month later, it was certified platinum by the RIAA for the shipment for sale of 1 million copies.
In December 2011, the pair won 3 American Country Awards, which were Single by a Duo/Group, Single by a Breakthrough Artist, and Music Video by a New Artist, all for "Are You Gonna Kiss Me or Not".
In 2012, the couple released another single, "Glass."
Grammy Nominations
Edit
2012 Grammy Nominations
Edit
Singles
Thompson Square
"Are You Gonna Kiss Me Or Not"
"I Got You"
"Glass"
Just Feels Good
"If I Didn't Have You"
"Everything I Shouldn't Be Thinking About"