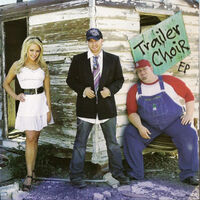 Trailer Choir
is an American country music duo composed of vocalists Marc Fortney and Vinny Hickerson, known by their respective stage names Butter and Big Vinny (A.K.A. Bigg Vinny and Bigg Vinny the Mack.[1]). The group began as a trio with Crystal Hoyt and was signed to Show Dog Nashville, a label owned by Toby Keith, in 2007. After recording the song "Off the Hillbilly Hook" for the soundtrack to Keith's film Beer for My Horses, Trailer Choir charted the singles "What Would You Say", "Rockin' the Beer Gut" and "Rollin' Through the Sunshine" on the Billboard Hot Country Songs charts. These singles were followed by an extended play called Off the Hillbilly Hook and an album called Tailgate. Hoyt departed the group in February 2011. The remaining members took a small hiatus in 2012, but started touring again in 2013.
Notable Songs
Edit
Ad blocker interference detected!
Wikia is a free-to-use site that makes money from advertising. We have a modified experience for viewers using ad blockers

Wikia is not accessible if you've made further modifications. Remove the custom ad blocker rule(s) and the page will load as expected.