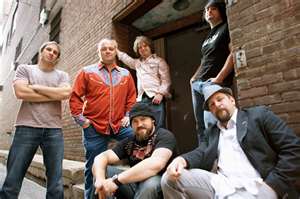 Zac Brown was raised in Dahlonega, Ga. The former restaurant owner started his music career as a solo artist, but in 2004, he formed the Zac Brown Band with bassist John Hopkins and fiddler Jimmy De Martini; more recent additions are guitarist/organist Coy Bowles and drummer Chris Fryar. They average more than 200 shows a year and have sold more than 20,000 CDs independently. The Zac Brown Band has already landed support slots with Sugarland, ZZ Top, Travis Tritt, Etta James, Lynyrd Skynyrd, The Allman Brothers Band, Willie Nelson and BB King. Their third album, The Foundation (2008), is on the Live Nation label.
In 2010, Brown and his band were awarded with the Grammy for best new artist. Also in 2010, the live Pass the Jar, recorded at a performance at Atlanta's Fox Theatre, was released. The studio follow-up to The Foundation, You Get What You Give, which featured new songs that the band honed on the road, debuted at No. 1 on the country chart in October that same year.
In 2011, the band and Jimmy Buffett shared the CMT performance of the year prize at the CMT Music Awards for their collaboration on Buffett's "Margaritaville" on CMT Crossroads. And in June 2011, the band played shows in England and Scotland with the Kings of Leon.
Zac Brown / Lead Vocals & Guitar
Jimmy De Martini / Violin, Vocals
John Driskell Hopkins / Bass, Vocals
Coy Bowles / Guitar, Organ
Clay Cook / Guitar, Organ, Mandolin, Pedal Steel, Vocals
Chris Fryar / Drums